PTI Repatriating Transformer Technology to North America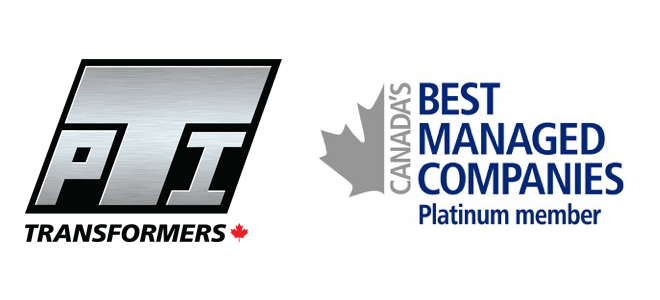 Canada & North America, November 2015:
Saskatchewan-based company, PTI Holdings Corporation, parent of PTI – Partner Technologies Incorporated acquired the Winnipeg transformer manufacturing operations, formerly owned by CG Power Systems Canada, Pauwels Canada and Federal Pioneer Limited. The acquisition doubles PTI's capacity, increases product scope to include mobile substations and expands manufacturing capabilities to 600MVA and 525kV. With an expanded range of product, PTI is looking forward to extending a legacy of excellence and innovation globally and to repatriating large power transformer manufacturing technology to Canada and North America.
On November 16, 2015, the acquired Winnipeg transformer manufacturing operations became known as PTI Manitoba Inc. Since establishing at that location in 1953, the Winnipeg facility has designed, manufactured and supplied, Canadian made, liquid filled power transformers and mobile substations, to utility and industrial customers globally. This new acquisition will allow PTI, to diversify product offerings and continue to produce innovative, cost-effective, high quality transformer based solutions globally. This acquisition makes PTI, Canada's largest privately owned transformer manufacturing business.
PTI attributes their success through commitment to customer service, quality and innovation. In early 1989, PTI originated as a transformer maintenance and service shop in Regina. Over the past 25 years, the company's steady growth and progressive development has provided jobs and opportunities in making innovative transformer based solutions. In Regina the company employs over 120 dedicated personnel in engineering, manufacturing, sales, operations, and administration. It is through a culture of excellence that PTI gained recognition for eight consecutive years, as one of Canada's Best Managed Companies. In 2014, the company achieved Platinum Status – the highest recognition awarded, and a status that has recently, once again been reaffirmed.
"The acquisition of the Power Transformer Operations in Winnipeg is an important step towards expanding PTI's product and technological portfolio and will help extend PTI's leadership as innovators in Canadian-made power transformers and transformer-based solutions. We are very pleased to welcome all the new employees into our family, and continue to look forward to creating more value for all our existing and new customers." says George Partyka, CEO, "I was born and educated in Winnipeg and this plant is where I first started my career before being transferred to my current home in Regina. Winnipeg plant was a great training ground for me, nurturing technology, innovation and entrepreneurial spirit. This is an exciting time and great opportunity to contribute back in some way to my roots, by providing customers with locally produced product and services, and support our journey of repatriating transformer technology to Canada. I am looking extremely forward to this exciting challenge and endeavor" – George T. Partyka, CEO
As PTI moves toward embracing the expansion, they are also looking forward to working together with all the experienced teams of employees, and through process improvement, technological innovation, and continued focus and commitment towards customer service, quality and safety, extend PTI's reputation as one of Canada's Best Managed Companies. In recent decades, the North American transformer industry has been challenged with increased off shore competition and the loss of skilled labor and technology. This acquisition helps to repatriate transformer-manufacturing technology and provide Customers with locally produced quality product and support.